Who wouldn't want to extend the life of their roof and avoid hefty replacement costs?  But every day, the roof is subjected to the heat of the sun, blasts of wind, rains, and thunderstorms. With constant exposure to these harmful elements, it's no wonder the roof experiences damage over time. On average, it takes about 20 years before completely replacing a roof. However, due to the Philippine weather, intense summer heat and torrential rains, the roof gets damaged easily, and you know what a damaged roof results in — leaks.
​
The Pioneer Adhesives manufacturing companies came up with a solution to protect your roof— the application of a roof sealant. In this way, it is the sealant that is struck by the elements and not the shingles of the roof. Furthermore, roof sealant aid the roof to have more fire resistance and it also stops mold and algae from growing.
Nevertheless, like in any kind of repair, when an untrained DIY enthusiast tries their hand then the project is most likely to end in some repercussions. Only people who understand how to apply roof sealants should take on the task. For example, someone inexperienced may have left a few unnoticeable cracks in the sealant. However small it is, it is often capable of causing leaks and additional problems.
Ultimately, the proper application of roof sealant is vital. But it doesn't need to stop you from repairing your roof yourself. You just need to learn the how-to-dos and what-to-avoid. In this article, let's take a closer look at some of the cautionary measures in applying a roof sealant.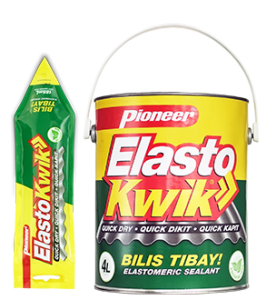 Safety first
Even experts take precautionary measures by heart when working on projects, especially those that are in high places. Potential of injury is higher, the higher you are off the ground. Here are a few pointers to stay safe when working on the roof.
Dress right for the job. Most likely, you will be working during the daytime, so loose-fitting clothing is perfect to keep you cool and at the same time, allows you to move freely. You should also wear shoes or boots with a rubber sole to avoid slipping and safeguard your feet from the scorching heat of the roof's surface. For additional safety, wear goggles to protect your eyes from dust and glare, a helmet if in case you fall and a tool belt to keep your hands free while working.

Schedule roof work. Working on not-so-perfect weather will increase your chances of sliding.

Make sure your ladder is propped safely. As a general rule of thumb, place your ladder one-fourth of its total length away from your house's exterior. For example, if your ladder is twelve feet long, place your ladder three feet away from the house.

Clean the roof. Loose debris can cause you to slip and fall. Also, most roof sealants will not adhere to a dirty roof surface.
Thoroughly inspect your roof
As precautionary, there must be an assessment of the roof before repairing it. All damages should be accounted for and there must be a sufficient plan on how to undertake the tasks. It's also good to note that a sealant is used for repairing and should never be applied to an extremely damaged roof. Another thing, a damaged roof may not even withstand your footfalls and may cause the roof to cave in and get you injured.
​
Watch out for asbestos
Some sealants contain asbestos. Asbestos is used as a reinforcing fiber or as a filler. Though it works great on our roofs, it doesn't dwell with our bodies when we inhale it. Frequent exposure to asbestos may lead to aggravated lung tissues causing shortness of breath and in extreme cases, cardiac arrest. If you are unsure if the products used in your roof are asbestos-free, treat is as such. You can wear a respirator or at least a gas mask to protect yourself from inhaling asbestos fibers.
​
Choose the best roof sealant
Selecting the right roof sealant is complicated. Before buying, make sure you have read the instructions and the compatibility remarks from the sealant manufacturer. For example, you used a sealant with solvents that are not compatible with your roof composition, so you end up replacing the roof because it has done more damage. Roof sealant here in the Philippines is very important because of our weather.
Keeping your roof in excellent shape is essential to the attractiveness, safety, value, and longevity of your home. If you plan to do it yourself, make sure you are doing it the right way. Ensure your safety, and only use roof sealants that categorically have the best materials in the construction industry.