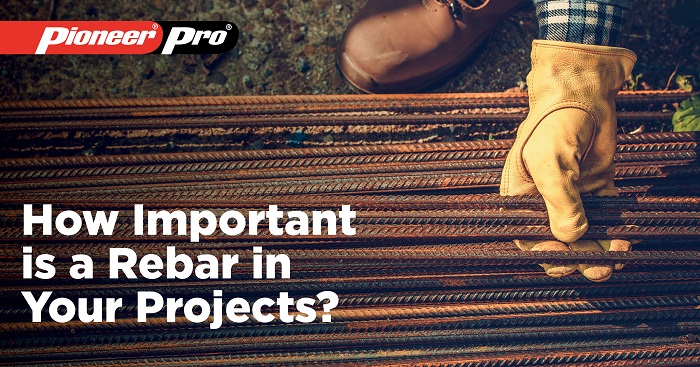 We're sure you'll agree when we say that a structure's foundation is one of the most important things to be considered when working on various projects. After all, the foundation keeps a house or a building upright.
While you can count on concrete and cement to make a structure sturdy, fellow experts also highlight the importance of rebar in "complementing these materials." As explained on connect2local.com, a rebar is a "steel bar that can be incorporated into cement or concrete to reinforce them and add to the building's overall strength." A rebar comes in handy when working with floor slabs, walls, or posts, and with it, you can count on added flexural and structural strength for your projects. What types of rebar have you worked with? Different bar sizes and grades of steel are said to deliver different levels of strength. Depending on the project you're working on, you can choose the right type of rebar to make it more durable. Some of the types you may have worked with might include:
Carbon steel rebar – considered as the most common because it's low-cost and guarantees strength
Glass fiber reinforced polymer GFRP – delivers added tensile strength
Stainless steel rebar – mostly used in corrosive environments and can be expensive
How important is a rebar?
You've read it many times before – it's one thing to have a captivating project and another to have a beautiful structure that can also stand the test of time. Working with rebars not only add value to your project, it also gives extra assurance that your project can withstand external and tension forces. Here are more reasons why a rebar is important: 1. It helps concrete bear tension forces According to thebalancesmb.com, tension forces can crack concrete. A rebar can reinforce concrete so it can endure such forces and keep the structure upright. 2. It makes materials resistant to failure Simply put, it adds to a building's structural integrity so that while concrete and cement can crack, the cracks won't pose a problem. 3. It will give you peace of mind A rebar is said to provide "stronger support than steel wires, reinforcing fiberglass, and many other products on the market" simply because on its own, it already provides structural strength. With these benefits you'll get from using a rebar, it's not enough that you just insert it into grilled holes of solid concrete materials. You need to make sure the rebar stays in place so that it can do its job of supporting a structure.
Pioneer Pro Anchoring Epoxy is a two-component, high-strength structural epoxy that's specially designed for anchoring bolts, dowels, and reinforcing bars into concrete and masonry. With its 100 percent solids content and solvent-free formulation, this heavy-duty epoxy adhesive guarantees strong bonds on a wide variety of rigid materials like glass, metals, ceramics, concrete, wood, and some plastics.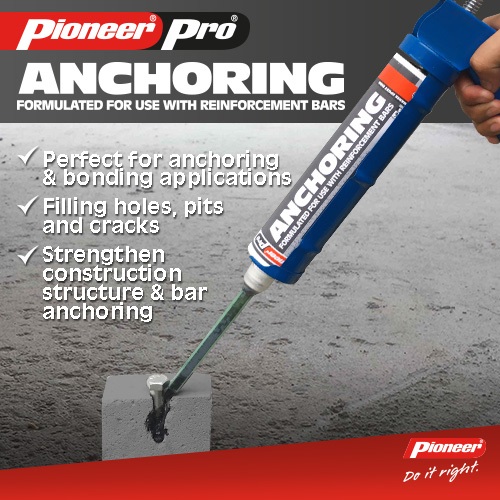 In addition to being versatile to be used in different construction materials, you can also count on its high tensile, flexural, and compressive strengths. Applying Pioneer Pro Anchoring Epoxy is easy as well as all you need is a heavy-duty professional caulking gun. Ensure the structural integrity of your projects with rebars and let Pioneer Pro Anchoring Epoxy be your partner in making sure it stays in place so you can deliver the quality output expected by your clients.https://shopee.ph/pioneer_adhesives or add to cart at https://lazada.com.ph/shop/pioneer-adhesives/
For inquiries, you can follow and chat with us on Facebook: facebook.com/PioneerAdhesivesPH or email info@pioneerph.com. Shop online when you visit