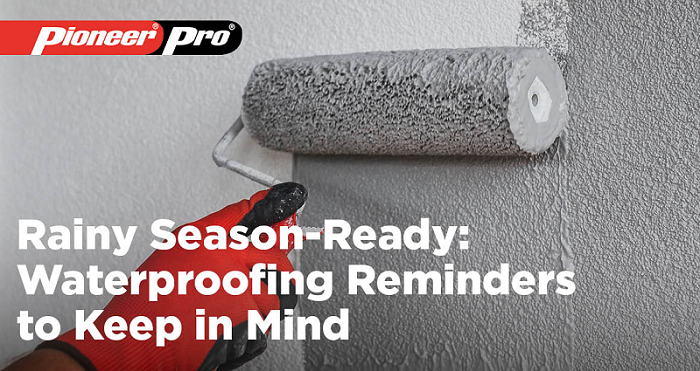 Water leaks – whether caused by pipes or water coming from the outside – can bring about expensive problems for the homeowner. As angi.com explains, "water damage is bad and leads to all kinds of related consequences…and even a seemingly harmless small leak can be problematic as water absorbs into floors, walls, and more."
With rains becoming more frequent these past few months and typhoons becoming stronger, making sure the home is properly waterproofed is of the essence. Without proper waterproofing, leaks may enter the house which in turn causes molds, wood rotting, and damage to the wall, to name a few. How can you ensure proper waterproofing during the rainy season? From making sure the drains and gutters are clean to educating them about the importance of waterproofing, you can help your clients protect their homes by providing expert advice as professionals.
5 WATERPROOFING REMINDERS DURING THE RAINY SEASON
Maintain the drains Drains work extra hard during the rainy season and they tend to get full. As chances are high of drains getting clogged, it's important to unclog and clean them regularly to ensure the flow of water. Make sure you advise homeowners about the importance of getting the drains checked even before the rainy season so that there's enough time to work on maintenance Check for leaks Leaks – whether it's coming from the roof, the walls, or pipes, must be addressed immediately. The roof, as the home's first line of defense, must be in good condition. Depending on the material used, see if there are holes, cracks, loose flashings, and screws. Repairing the roof and making sure water cannot seep into the house is worth investing in. In addition to checking the roof, walls and ceilings must also be given attention. Fellow experts say that "drywall will get swollen with moisture and start to split when the walls are exposed to water for an extended period." Aside from causing molds, water-damaged walls and ceilings can also lead to costly structural issues so advise the homeowners you work with to schedule a professional check for potential leaks to avoid bigger problems. Clean the gutters Leaves and other debris stuck in the gutters may cause them to overflow after a strong rain. Overflowing gutters can then cause dampness in the walls and doors. Don't forget to check the gutters and downpipes at the same time you maintain the drains to avoid clogging. Make sure the doors and windows are working properly Doors and windows that don't close properly allow rainwater to enter the house. Aside from greasing the hinges and joints, sliding door and window tracks must also be thoroughly cleaned to keep them airtight. In addition to these must-dos, cracks in glass doors and windows as well as holes in screen doors must also be addressed as these can be water entry points, too. Invest in quality waterproofing Imcgrupo.com says to be able to completely waterproof the house, an extensive approach by way of using waterproofing membranes is a must as it "protects the house from liquid damage of any sort and helps solve a variety of problems." As an essential and critical step of the construction process, waterproofing requires using quality products that help guarantee the longevity of the project while also reducing the possibilities of structural damages in the future.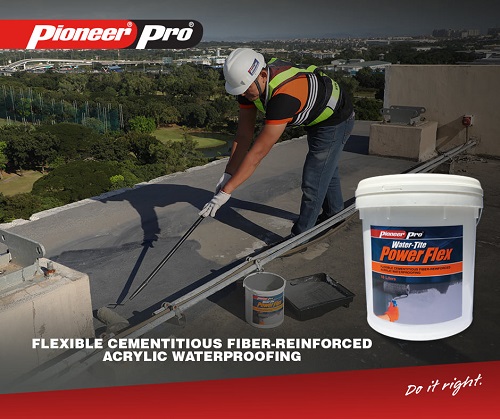 A one-component, flexible, and fiber-reinforced polymer emulsion, Pioneer Pro Water-Tite PowerFlex is easy to apply and ideal for interior and exterior use. The polymer base is mixed with cement to produce a flexible waterproofing membrane that is capable of resisting hydrostatic pressure and bridging hairline cracks.
Pioneer Pro Water-Tite PowerFlex can be applied on concrete gutters, firewalls, basements, roof decks, and canopies, to name a few. Aside from its excellent crack-bridging properties, it also delivers good adhesion on concrete, cement mortars, and stone. Other key features include protecting against concrete decay and corrosive salts while also improving the water impermeability of concrete by 300 to 400 percent. Flex your expertise and make Pioneer Pro Water-Tite PowerFlex your partner in every construction project, especially during the rainy season.
For inquiries, you can follow and chat with us on Facebook: facebook.com/PioneerAdhesivesPH or email info@pioneerph.com. Shop online when you visit https://shopee.ph/pioneer_adhesives or add to cart at https://lazada.com.ph/shop/pioneer-adhesives/