With online groups becoming a hub for home improvement ideas, more and more homeowners are looking into making the most of their spaces. While some are still saving up for a dream build, there are those who want to revamp their current houses.
A home renovation is equally exciting as it gives you the opportunity to help clients make their homes look brand-new. By working on the needed fixes and making sure the structure is still sound, a properly planned renovation can do wonders for a space.
To make it successful, understanding the client's budget and needs is a must so you can come up with a feasible work plan. By finalizing the budget with your client, you can prioritize areas that need major work then focus on polishing the final output.
4 ways you can manage a renovation budget
1. Have an open and thorough discussion with your client.
Schedule a meeting where you can go around the property and have a sit-down with the owners so you can have a better understanding of what they want to achieve from the renovation. Ask about the budget they have in mind and if there are specific must-dos they want to prioritize such as replacing the roof, revamping a certain area, or simply freshening up the paint job.
After taking note of what they want to accomplish, you can have an idea if the budget they've allotted for the project is sufficient or not.
2. Manage your clients' expectations.
It's no secret that prices of materials might increase and labor costs can get pricey, too. Taking into consideration everything you need to pay for and spend on, be honest if the budget will work or not.
In an interview on homemagazine.nz, an architect shares that "from the outset, we need to manage our clients' expectations versus the budget as these are often not aligned." You can suggest reducing the scope of the renovation or looking into the possibility of increasing the budget. If the latter is not possible, it's better to change the design plans and focus on areas that need to be addressed as soon as possible such as the roof, walls, or just one area of the house.
3. Consider the materials you're using.
Going for quality materials, even if these are priced higher, can help ensure quality results. However, if the budget is already set, fellow experts say you can look into changing materials where you can to lower the costs.
You can also see if you have extra materials on-hand that can be used in the current project you're working on. Make sure you visit multiple depots and hardware stores so you can compare prices and purchase the most cost-effective one.
4. Have the right essentials in your arsenal to ensure an efficient job.
It's one thing to invest in premium materials and another to have construction essentials that can help you achieve an output that exceeds your clients' expectations. After all, how can you put things together if you have substandard essentials?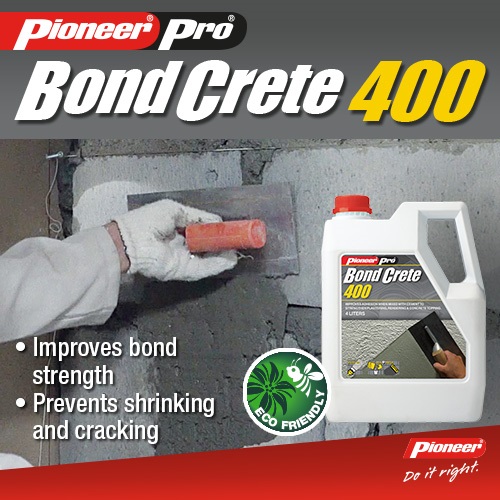 From picking the right cement and sealant to finding a superior cement bonding agent – every item you choose adds to the overall result. When it comes to renovation work, having Pioneer Pro Bond Crete 400 is a must. A modified acrylic emulsion, it has been formulated as a modifier for cementitious systems and a bonding and curing agent.
Resistant to hydrolysis, Pioneer Pro Bond Crete 400 can be used for internal and external applications including improving the application of plastering. It comes in handy when renovating a property as it also improves adhesion when repairing cracked, damaged, and spalled concrete, while making sure you stay within a set budget.
Learn more about Pioneer Pro Bond Crete 400 and other Pioneer Pro products when you visit our Solution Sets page. For inquiries, you can follow and chat with us on Facebook at fb.com/PioneerAdhesivesPH or email info@pioneerph.com. Shop online when you visit https://shopee.ph/pioneer_adhesives or add to cart at https://lazada.com.ph/shop/pioneer-adhesives/