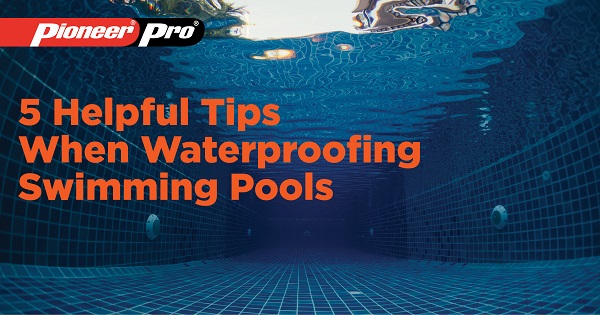 In the Philippines where the summer/dry season can get really hot, having access to a pool is considered a luxury. After all, when it gets really humid, all you have to do is take a dip. However, a quick scroll on social media will give you an idea of how resourceful homeowners can be. Some have found a way to incorporate even just a small pool in their homes while business owners who rent out properties go the extra mile by adding infinity pools as an amenity.
With swimming pools becoming a part of many construction projects, knowing how to properly build one is a must. In addition to making sure the plumbing is working perfectly and that you choose top-notch tile to complete it, allotting enough time for waterproofing is also crucial.
Why do you need to properly waterproof a swimming pool?
According to constrofacilitator.com, pools are subjected to "constant pressure of water," hence the need for waterproofing. Given this, you need to make sure you don't skip waterproofing. The goal? To deliver than inviting pool that doesn't leak.
Helpful tips to keep in mind when waterproofing swimming pools
Ensure a smooth process with no room for errors by keeping in mind the following:
1. Check the pool first.
Make sure there are no cracks and honeycombs in the concrete. As explained by theconstructor.org, "honeycombs as a defect not only reduces the load bearing capacity but water finds an easy way to reinforcement rods and rusting and corrosion starts." Don't rush and address the problems you will spot in the concrete before you proceed.
2. Make sure you have a clean surface to work with.
Just like how you do surface preparation when painting, it's important that you have a clean surface or substrate. It should be free of dust, oil, grease, and debris to guarantee a strong bond. Constrofacilitator.com also adds that penetrations, joints, seams, corners, and drains must be properly sealed before waterproofing.
3. Choose a quality waterproofing product.
Your chosen product must be easy to apply, flexible, durable, and can withstand hydrostatic pressure. Aside from going for one that's non-toxic, it also helps if your waterproofing product allows for proper curing before tiling commences.
As your partner in making sure you do things right, Pioneer Pro offers Pioneer Pro Water-Tite 103, a two-component, highly flexible cementitious waterproofing membrane. Since it can be used not only on swimming pools but on bathrooms, basement walls, and firewalls as well, it's an economical choice for any project.
4. Follow the instructions specified by the manufacturer of your waterproofing product.
Don't forget to factor in the curing times specified by the manufacturer and how soon you can apply a second coating. It also helps if you use the right equipment when doing waterproofing – whether it's a mechanical mixer, brush, or a roller. Ensure that the person applying the waterproofing product is wearing gloves and protective goggles in compliance with practicing safety first.
5. Don't forget to do a leak test.
While you can count on the guarantee of your chosen waterproofing product, proper testing is still required. Once the waterproofing membrane has cured, check if the pool is watertight before you proceed with tiling. Experts suggest doing a flood or phase test a week after curing to see if there are leaks. If leaks are detected, the pool must be drained and necessary fixes must be done immediately.
For your peace of mind, add Pioneer Pro Water-Tite 103 to your construction arsenal. In addition to the previously mentioned advantages, it also guarantees excellent adhesion to most substrates, it can bridge hairline cracks, plus, it's algae- and fungus-resistant, too. Since it's infused with the strength of cement, Pioneer Pro Water-Tite 103 can also protect the surface structure from water damage.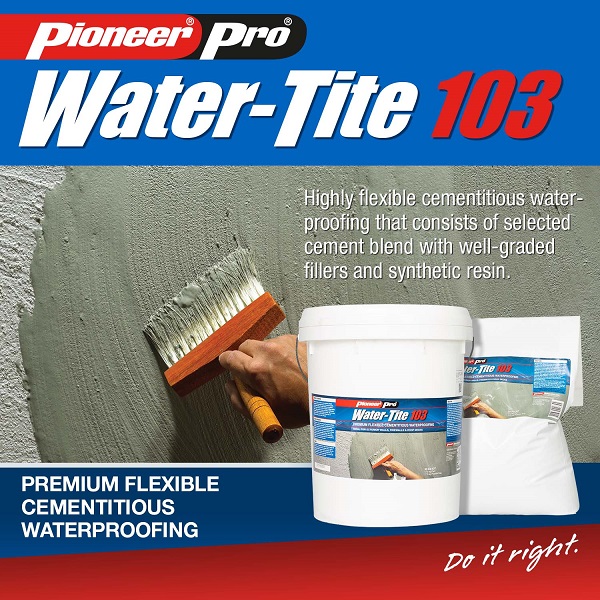 Don't leave an important part of your project to chance. Do it right the first time and get the results you want with Pioneer Pro Water-Tite 103.
Pioneer Pro Water-Tite 103 is included in our list of products for construction and industrial solutions. You may also check out this product on Shopee and Lazada or inquire through our contact us page.