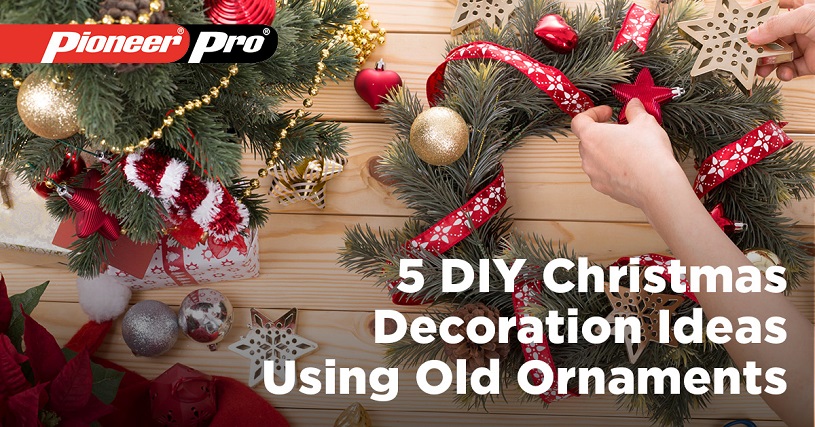 Are your Christmas decorations already up? With the holiday rush in full swing, it's easy to get overwhelmed with everything you need to accomplish before Christmas. If you haven't decorated the house yet, there's no need to worry about buying new ornaments. You can always reuse the trinkets you displayed last year and give them fresh flair.
With resourcefulness and creativity, your old decorations can look brand new! Get inspiration from the ideas below.
1. Glue old Christmas balls to create a wall accent.
Got mismatched Christmas balls? Check the condition of these ornaments to see which ones you can use. Those with cracks can be quickly fixed with fast-drying glue or adhesive so you can still add it to your final piece.
Once you have the balls ready, glue them together to a canvas or a board you can hang in the entryway or living area to usher in good tidings.
2. Create an elegant centerpiece.
Bring out an old vase and clean it thoroughly. Fill it with old Christmas trinkets, balls, pine cones, and battery-operated lights. You can use this as a centerpiece in the dining area just in time for Noche Buena.
3. Spruce up an old wreath.
Don't throw your lackluster wreath just yet! Breathe new life into this green ornament by adding ribbons and colorful baubles. If you have smaller Christmas balls, you can glue two or three together before tying them with a ribbon onto the wreath.
4. Turn mason jars into candleholders.
If you have mason jars at home, you can put them to good use by painting them in holiday colors and gluing cutouts of stars and trees in front of each jar. Place votive candles inside the jars before using them to decorate the corners of your home. Make sure you light up the candles at night or just in time for your get-together.
5. Create a minimalist diorama.
Ready to elevate your DIY skills? If you have spare plywood from your last renovation project, you can use this as a backdrop for your diorama. Achieve a simple setup by gluing a mini tree, mini Christmas balls, and old figurines if you have them, onto the plywood. You may choose to further liven up the diorama with battery-operated lights. Your final project can be displayed in the living area.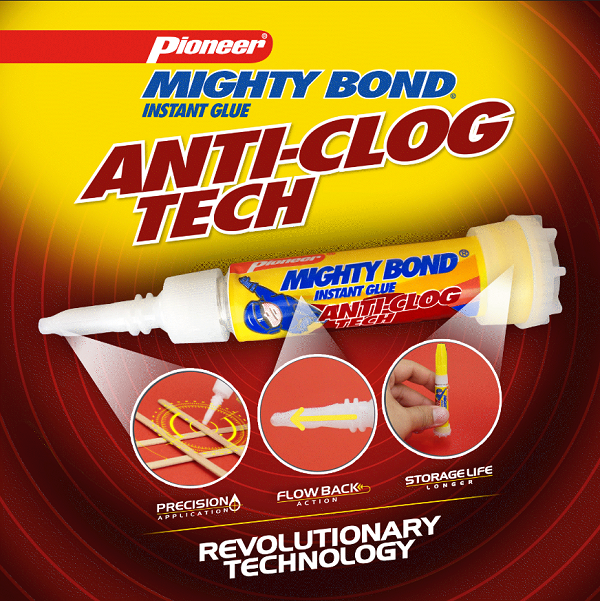 Working on last-minute Christmas preparations can be more efficient when you have the right essentials. Aside from gathering all the decorations you can work with, it's a must to have Pioneer Mighty Bond Anti-Clog Tech. An adhesive that bonds almost everything in just seconds, this product is fast-drying and doesn't require mixing, clamping, or heating.
When working with Pioneer Mighty Bond Anti-Clog Tech, all you need is a drop for every square inch, applied on one side of the two surfaces you're bonding. You don't need to worry about getting the glue on your hands or the product hardening because it utilizes a patented dispenser that delivers the instant glue via a precision applicator and a flow-back mechanism that also reduces nozzle clogging.
Aside from using Pioneer Mighty Bond Anti-Clog Tech on your Christmas projects, make sure you keep an extra tube on hand for other quick fixes as it can bond metal, rubber, leather, wood, and porcelain.
Ace your holiday decorating game and wow your guests using Pioneer Mighty Bond Anti-Clog Tech. For inquiries, you can follow and chat with us on Facebook: facebook.com/PioneerAdhesivesPH or email info@pioneerph.com. Shop online when you visit https://shopee.ph/pioneer_adhesives or add to cart at https://lazada.com.ph/shop/pioneer-adhesives.