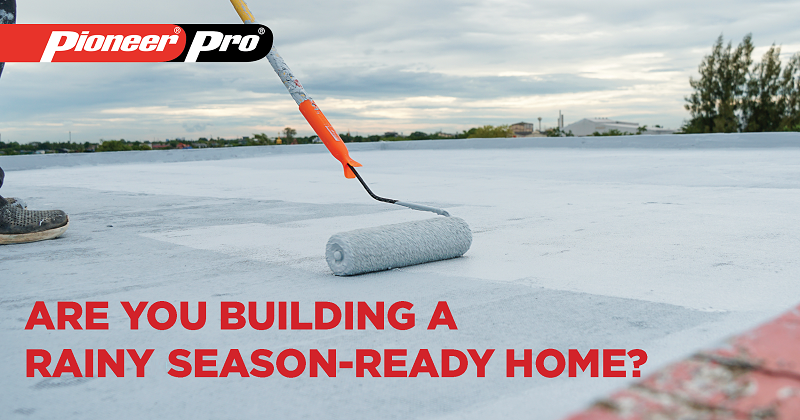 Are You Building a Rainy-Season-Ready Home?
With our country experiencing an average of 20 typhoons every year, preventing flooding and making sure a home can withstand the strongest of rains (and winds!) have become musts when building or renovating a house. Aside from typhoons, the rainy season can also be a cause of headache because continuous rainfall may cause leaks, damp walls, and other forms of damage to a house's structure.
As explained by Livspace.com, "during the rainy season, moisture seeps through the exteriors of the house and causes damp patches on the internal walls." These damp patches are instantly visible after a strong rain and can result in peeling paint, unwanted leaks, and mold growth.
How do you build a home that will remain safe and dry during the rainy season? Here are some tips to keep in mind:
Waterproof the roof and external walls of the home
How do you keep water out? With proper waterproofing, of course! Since the roof is one of the first lines of defense of a home, it needs to be waterproofed to avoid leaks. Applying a waterproof coating serves as a sealant and keeps water from seeping into the interiors.
According to Livspace, some of the exterior paints are "permeable and allow water to seep from the exteriors of the house to the interior walls." Similar to how waterproofing the roof works, exterior waterproofing coats help create a barrier against rain water and moisture.
Check for cracks and seal them immediately
Even the tiniest of cracks can lead to big problems when left unaddressed. Even before the rainy season starts, do preventive maintenance. Check the roof for leaks and inspect the walls for cracks.
Cracks in the walls, which are often seen near doors and windows, can be likened to doorways that lead moisture into the structure of the house which then result in molds and damp patches. Keep this from happening by filling the cracks with crack fill putty.
Aside from putty, you can also use interior elastomeric coating that can effectively bridge cracks and protect walls from fungus growth.
Install a damp proof course
There are instances when the wet patches start on the lower portion of the walls. Having a damp proof course requires work as it involves constructing a preventive barrier into the wall to prevent ground water and moisture from rising through a home's walls.
If there is already a damp proof course in place and there are still visible wet patches, chances are, it needs to be replaced to avoid further damage.
The rainy season can cause serious and costly damages in a structure that's not built to withstand it. With the reminders above, you can prepare for heavy rainfall and avoid problems by making sure what you've built is properly waterproofed.
How? By depending on quality materials that can help you get the job done.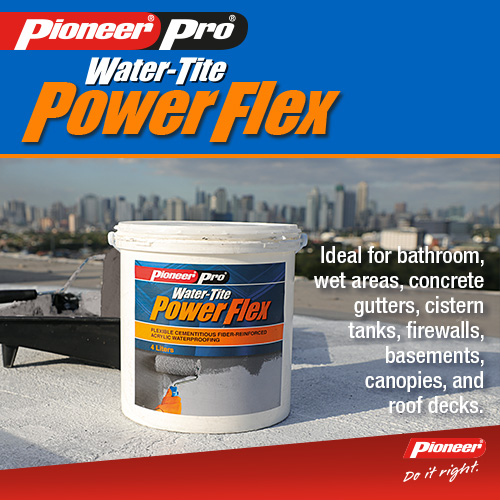 Pioneer Pro Water-Tite Powerflex is a single component cementitious fiber-reinforced waterproofing solution made of special grade polymer that's designed to produce a waterproofing membrane capable of resisting hydrostatic pressure when mixed with Portland cement.
It's a versatile material that's best used for applications that require flexibility and movement such as roof decks, firewalls, canopies, concrete gutters, cistern tanks, and other wet areas.
Pioneer Pro Water-Tite Powerflex is all about delivering results. It's not only easy to apply, it also protects against concrete decay and corrosive salts while improving water impermeability by 300% to 400%. The best part? It adheres to different materials such as concrete, stone, and cement mortars.
To learn more about Pioneer Pro Water-Tite Powerflex and how it can be a valuable part of your projects, message us on Facebook: facebook.com/PioneerAdhesivesPH or email info@pioneerph.com.