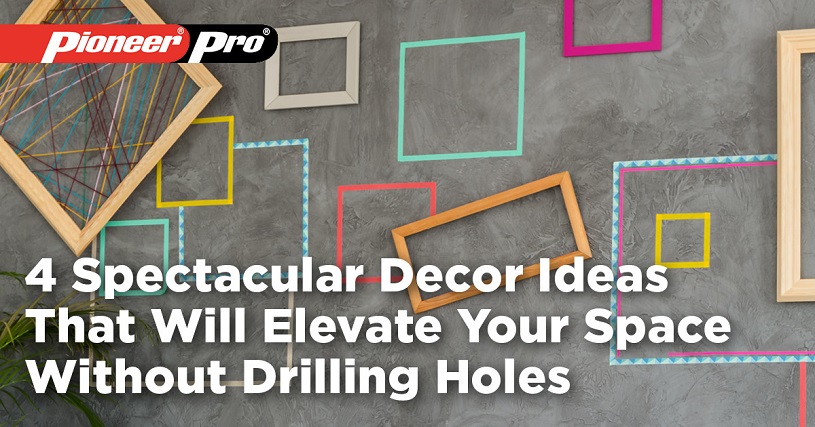 As a homeowner, you likely have numerous ideas on how to enhance your living space, from buying new furnishings to adding decorative pieces. If you're looking to save on costs, opting for the DIY route is a practical and fulfilling choice.
When it comes to DIY, simplicity is key. Completing projects without having to drill holes or using special equipment is ideal, as it allows you to unleash your creativity at any time using readily available materials. Using strong adhesives not only saves your walls from damage but also streamlines the crafting process. With that in mind, check out the four crafts below for an enjoyable weekend of decorating.
4 DIY crafts you can create using Pioneer Pro Builder's Bond:
1. Framed accent wall
An empty wall at home allows you to create a framed wall accent using old picture frames. Depending on the size of your wall, you can collect as many frames as you like or purchase them from thrift stores. To make it more fun, consider buying frames in different sizes.
Once you have the frames, carefully discard the glass of each so you can proceed with the project. Instead of drilling holes or using nails, you can install the frames on the wall using a construction adhesive. If you have a light-colored wall, you can work with unpainted wooden frames, or if you prefer something bolder, painting them is a good idea.
2. Tiled gallery wall
Want something different from your gallery wall? Self-adhesive cement tiles are a welcome break from the photos and prints that you see in most homes. Choose tiles with stunning designs or colorsto truly make an impact. You can even go all out with patterned tiles. Consider creating your tiled gallery wall in the kitchen or bathroom.
3. Modern mosaic
Mosaic works of art instantly catch the eye and add character to a space. You can create your mosaic art using broken tiles from your last home project or look into purchasing affordable tiles from hardware stores. Making your mosaic involves breaking the tiles, laying them on a surface, and gluing them in place. Consider laying your mosaic on the flooring by your main door or on a block of cement that you can erect as a decor piece.
4. Crafty mirror
Is your home's entryway looking a little lackluster? Sprucing up a mirror and putting it on display is an easy way to freshen up the space. All you need is an old mirror – it's up to you if you want a round or rectangular one – and your choice of ornaments. You can stick paper straws, wooden decor, and even colorful plastic baubles to elevate your mirror. Get inspiration here. Make the creative process of working on DIY projects easier with Pioneer Pro Builders Bond, a one-part mild solvent and rubber based all-purpose construction adhesive that delivers a strong and lasting bond.
Aside from its resistance to water and weather, it also has a non-drip and non-sag formulation. You can use Pioneer Pro Builders Bond when working with mirrors, fiberboards, ceramics, tiles, glass, EPS foam, and even plastic. Since it's a construction adhesive, it comes in handy not only for your DIY projects but also for quick home fixes, such as bridging gaps on ill-fitting construction materials. Having a versatile product like Pioneer Pro Builders Bond in your home improvement kit is a smart choice.
Stay on top of your home improvement must-dos with Pioneer Pro Builders Bond. Learn more about this product at www.pioneer-adhesives.com.
For inquiries, you can follow and chat with us on Facebook: facebook.com/PioneerAdhesivesPH or email us at info@pioneerph.com.