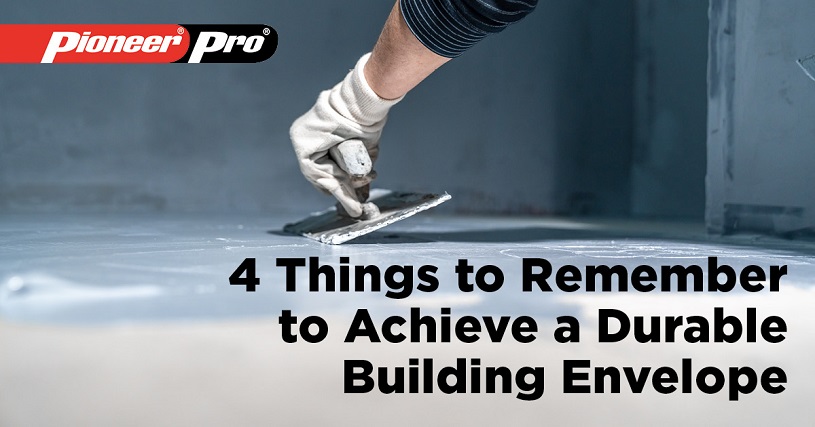 As a design professional, it's part of your commitment to your clients to deliver a visually captivating project that's designed for longevity. To achieve a timeless and durable project, having a well-designed building envelope is a must.
According to bchousing.org, "a building envelope refers to all the building components that separate the indoors from the outdoors," including the exterior walls, foundations, roof, windows, and doors. The structure's building envelope keeps rain, moisture, dust, and wind from entering the building to preserve its integrity and protect the occupants and assets inside. If a durable building envelope is not built and maintained properly, materials may deteriorate, and the cost of repairs may increase over time. Therefore, to avoid expensive repairs and extensive damages, it's crucial to plan a building envelope that can endure the elements.
4 things to remember so you can achieve a durable building envelope
1. Choose the right materials.
Opt for materials that resist moisture, radiation, and other environmental factors, as well as those that add to the stability of the building. Consider these factors as well when purchasing paint, cement, and waterproofing essentials.
2. Ensure proper installation.
Aside from inspecting the status of the installation of the materials yourself, it also helps to have someone who can oversee the work when you're not present. Proper installation and inspection can help avoid redoing the work, damages, and extra costs.
3. Avoid moisture accumulation.
To prevent moisture from accumulating and affecting indoor air quality, ensure there are proper ventilation systems as these reduce the risk of mold growth. Bchousing.org explains that "the building envelope should not permit weather elements to be trapped inside the walls." When elements get trapped inside the walls, the higher the chances of mold growing and the materials decaying.
4. Prioritize maintenance.
Just like how you value proper installation, maintenance should be given importance, too. Be on the lookout for peeling paint and water stains on the walls and ceiling as these are some of the signs that there are problems with the building envelope. An inspection and maintenance should be in place and coordinated with the owners. Addressing problems early means avoiding expensive repairs.
Ensuring a durable building envelope starts with choosing the right materials and when purchasing your construction essentials, a quality waterproofing membrane should be on top of your list. Pioneer Pro Water-Tite Powerflex Interior & Exterior Elastomeric Coating is a versatile product that can be used in concrete gutters, firewalls, basements, roof decks, and other wet areas.
The polymer base of this one-component, flexible, fiber-reinforced polymer emulsion is mixed with cement to produce a flexible waterproofing membrane that's capable of resisting hydrostatic pressure and bridging hairline cracks. Aside from being ideal for both interior and exterior use, Pioneer Pro Water-Tite Powerflex also offers excellent adhesion on concrete, cement, and stone, to name a few.
You can also count on how the product can seal and protect against fungus growth, decay, and corrosive salts. By using Pioneer Pro Water-Tite Powerflex, you can help prevent costly repairs, extend the lifespan of the building, and protect the occupants and assets inside.
Satisfy your clients' expectations with essentials like Pioneer Pro Water-Tite Powerflex. Learn more about this product at www.pioneer-adhesives.com/powerflex. For inquiries, you can follow and chat with us on Facebook at PioneerAdhesivesPH or email us at info@pioneerph.com. You may also checkout Pioneer Pro Water-Tite Powerflex on Lazada and Shopee.